The tribe is steadily growing
The latest addition to the tribe are the Blocksport LionZ. Welcome LionZ!
---
A short tale of the LionZ
Just earlier this year the Blocksport LionZ were founded. And looking at their rosters, they got themselves some strong players to start with. Currently they are competing in three different games. Hearthstone, Starcraft II and Counter Strike are the ones.
There is not much left to say. Only that the LionZ aim high when it comes to their goals!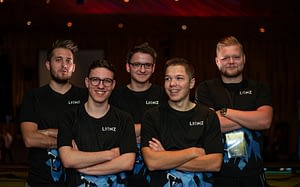 Picture:  CS:GO Team Blocksport LionZ
(Credit: Daniel Gerzner)
---
Why Blocksport LionZ?
I wanted to support Blocksport LionZ because they are an aspiring young organisation. As they are a newly founded organisation, I saw the opportunity to help them and watch them grow.
Another reason is that the LionZ take care of their tribe and together we want to do even more.
---
There are some exciting plans I want to share with you. I can't say much, but I can tell you this : It will be awesome!
Stay tuned on my socials to find out more!
Here the socials of the LionZ to stay up to date on what they do.
That is all for now. And there is only one thing left to say.
Stay healthy and keep your head in the game.
One tribe. One passion.
Your CATURIX.